Check Out What Our Customers Are Saying
"
"
william bacon
on 06/13/2020
Secure and friendly helpful staffing
"
"
Mandy Johnson
on 01/21/2020
Clean, safe, and secured and reasonable price standard outside units. The manager is friendly and professional. Would recommend this location to anybody looking for a storage unit.
"
"
Celessicca Young
on 12/05/2019
I feel so secure with my stuff in these storage units. I dont have to worry about break ins and stuff. Ms. Ruth will work with you and help you any way she can. They have security cameras and a security gate. So not anyone can just come in. That's relief to know my belongings are safe and secure.
Leave a Review on our other social media accounts: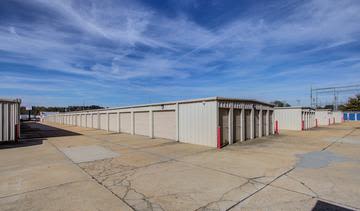 Storage Units in Tupelo, MS
StorageMax Tupelo East offers a wide range of unit sizes, great prices, and outstanding customer service. Trust in us to accommodate your storage needs, whether you plan to store short or long-term. A Max Manager is just a phone call or visit away. Reserve a unit online, risk-free!
Why Choose StorageMax Tupelo East?
Drive-Up Access

Ground Floor Units

Power Outlets

24-Hour Video Monitoring

Electronic Gate Entry

Fully Fenced Property

Online Rental & Bill Pay

12-Month Rate Guarantee
Located on North Veterans Memorial Blvd, StorageMax Tupelo East is the ideal place for you. We're happy to be a storage solution for residents and businesses throughout Mooreville, Plantersville, Chesterville, and several other surrounding neighborhoods. Find us near Backyard Pools, Veterans Park, and the Tupelo Aquatic Center.
Head south on N Front St toward E Main St

Turn left at the 1st cross street onto E Main St

Turn left onto N Veterans Memorial Blvd

StorageMax Tupelo East will be on the right
Head west on MS-178 W toward MS-371 N

Turn right onto N Veterans Memorial Blvd

StorageMax Tupelo East will be on the right
Head northwest on Pinecrest Ave toward Main St

Turn right onto Main St

Continue onto MS-6 W/Briar Ridge Rd

Turn left onto E Main St

Turn right onto N Veterans Memorial Blvd

StorageMax Tupelo East will be on the right
Head north on MS-145 N/Raymond Ave toward Anthony St

Take US-45 to MS-6 E/E Main St. Take the Main St/MS-6 exit from US-45

Turn right onto US-278 E/S Green St/Pontotoc Pkwy

Continue straight onto Pontotoc Pkwy

Turn left to merge onto US-45

Take the Main St/MS-6 exit toward US-278

Drive to N Veterans Memorial Blvd

Turn right onto MS-6 E/E Main St

Turn left onto N Veterans Memorial Blvd

StorageMax Tupelo East will be on the right