StorageMax - Tupelo on McCullough North
Check Out What Our Customers Are Saying
"
"
James Melton
on 04/08/2021
Great place to store your stuff .
"
"
Michael McMath
on 02/01/2021
Ruth at the McCullough Blvd location was cheerful and professional. She took the time to verify that my unit would be large enough to hold everything I own and we found that it would not, However she was able to get me an upgrade which allowed me to get all my furniture out of my apartment on time. Thank you for taking the time to see my concerns through the end. I appreciate Ruth willingness to to help me even after Storage Max working hours. Please give Ruth a call for any of your storage concerns and someone give this woman a raise!
"
"
Travis Cohea
on 10/30/2020
Great facility with attentive and supportive staff. Always a smile and greeting when I visited my unit. I highly recommend this facility for both reasonable costs and the friendly staff!!
Leave a Review on our other social media accounts: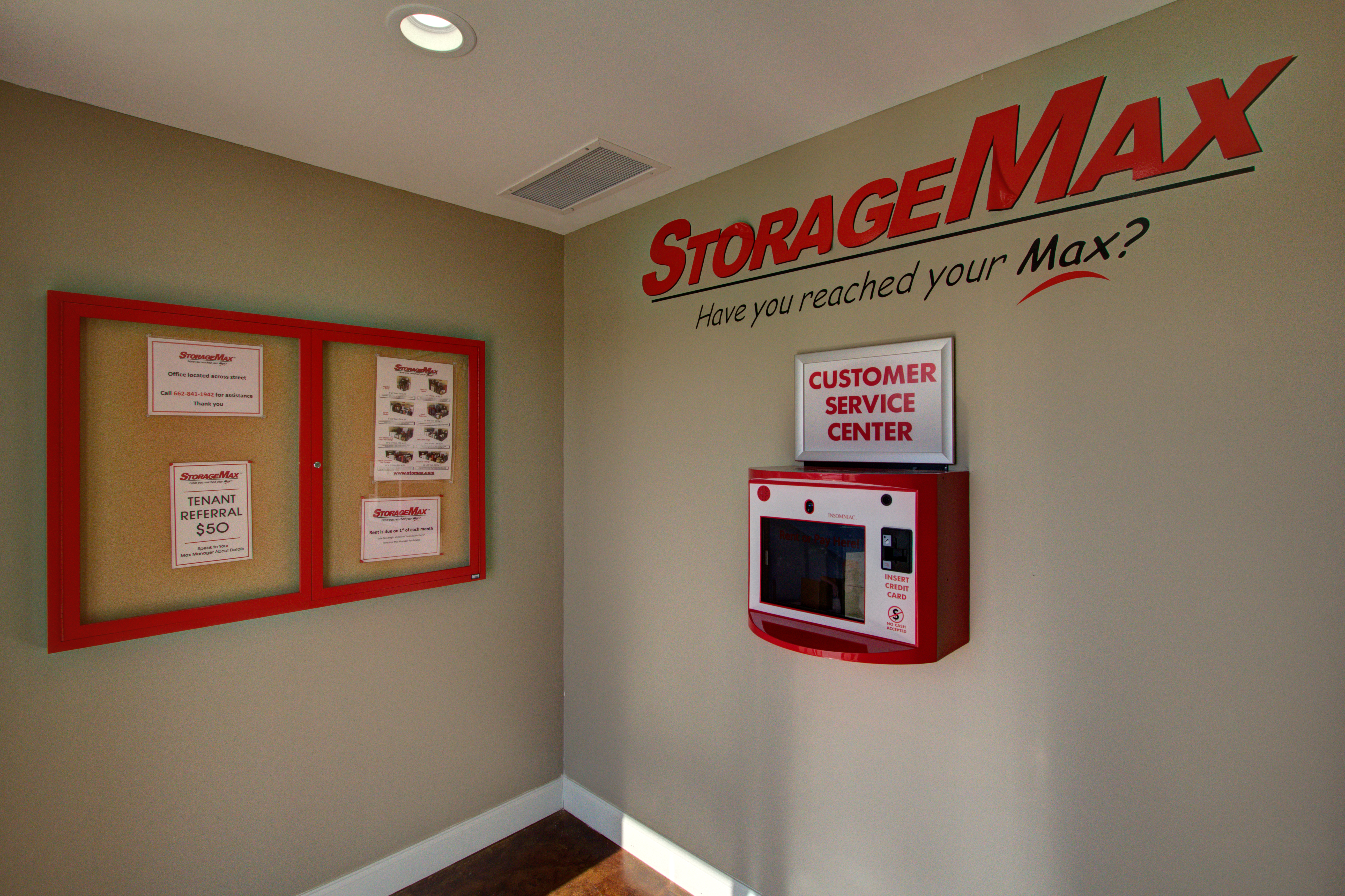 Storage Units in Tupelo, MS
You won't find a better storage facility in Tupelo, MS than StorageMax Tupelo 4. Our facility is clean, secure, and conveniently located. Essentially, our team is professional, friendly, and knowledgeable, so you can always rely on us to accommodate your needs. Take a look at our unit sizes, prices, and availability. Contact a Max Manager is you have questions or need more information.
Why Choose StorageMax Tupelo 4?
Climate-Controlled Storage Units

Outdoor RV & Boat Parking

Complimentary Dollies & Carts

Fully Fenced W/ Electronic Gate Entry

Ground Floor Units

Power Outlets

Online Rental & Payment

12-Month Rate Guarantee
Do you need extra storage space near your Tupelo, MS home or business? StorageMax Tupelo 4 is conveniently located on McCullough Blvd, easily accessible to residents and businesses throughout Sherman, Chesterville, Endville, and several other surrounding neighborhoods such as Forest Hills and Shady Acres. We're close to Chambers Fabric, Veternas Park, Briggs Equipment, Prissy Pistols Boutique and Veterans Aquatic Center.
Office Hours
Sunday
Closed
Monday - Friday

8:30 AM

-

5:30 PM

Saturday

8:30 AM

-

3:00 PM
Holidays Observed: New Years Day, Memorial Day, July 4, Labor Day, Thanksgiving, Black Friday, Christmas Day
Access Hours
Sunday - Saturday

6:00 AM

-

9:00 PM
Get on MS-178 W/US-45 from N Front St

Head north on N Front St toward Court St

Continue straight to stay on N Front St

Turn right onto Barnes St

Turn left onto Hilda Ave

Turn left to merge onto MS-178 W/US-45 toward Memphis/Corinth

Drive to MS-178 W/McCullough Blvd

Merge onto MS-178 W/US-45

Use the left lane to take the MS-178 W/McCullough Blvd exit

Continue onto MS-178 W/McCullough Blvd

You've arrived at StorageMax Tupelo 4
Head south on 3rd Ave toward Main St

Turn left onto the ramp to Tupelo

Merge onto I-22

Take exit 81 to merge onto MS-178 E/McCullough Blvd

Continue straight onto McCullough Blvd

You've arrived at StorageMax Tupelo 4
Head north on Mount Pleasant Rd toward Chesterville Rd

Slight left onto Chesterville Rd

Turn right onto Mount Pleasant Rd

Turn right onto Endville Rd

Turn right onto McCullough Blvd

You've arrived at StorageMax Tupelo 4
Head south on Endville Rd toward Dozier Hill Rd

Turn right onto McCullough Blvd

You've arrived at StorageMax Tupelo 4